Lifelong Learning
Nancy Merz Nordstrom
Nancy Merz Nordstrom, M. Ed., is the author of Learning Later, Living Greater: The Secret for Making the Most of Your After-50 Years, published by Sentient Publications in Boulder, Colorado.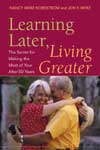 Learning Later, Living Greater introduces readers to the ideas and benefits of later-life learning. It challenges people to become involved in meaningful new avenues of productivity: learning for the sheer joy of learning something new, educational travel, volunteerism, civic action, and more. It shows them how to stay mentally and spiritually young. Learning Later, Living Greater is the guidebook for transforming the after-work years into a richly satisfying period of personal growth and social involvement.
Nancy also directs the Elderhostel Institute Network for Elderhostel, Inc., North America's largest educational travel organization for older adults. She offers counseling to new start-up programs, provides resources and facilitates communication among almost 400 Lifelong Learning programs across the U.S. and Canada, and develops links between these programs and similar programs in Europe, Australia and New Zealand. She has also worked closely with developers establishing lifelong learning programs in Japan.
Nancy blogs and writes columns for several online sites that focus on adults over the age of 50. Her own website is LearningLater.com, which provides information for the general public. In addition, Nancy has developed an online course at DailyOm.com that helps older adults find life satisfaction.
She has been interviewed by the media about the learning in retirement movement. Articles have appeared in many newspapers and periodicals, including the Wall Street Journal, the New York Times, the Boston Globe and the Washington Post. Nancy was also a guest on the CNN Financial News TV Network show "Your Money."
A dedicated lifelong learner, Nancy returned to school after the unexpected death of her first husband, and at age 53, earned a M.Ed. in Adult Education. As a later-life student she became aware of the opportunities and challenges facing older adults, and has dedicated herself to the belief that lifelong learning is both empowering and life-affirming, regardless of age.
Imagine the excitement of exploring the treasures of the Tuscan countryside, of a lively discussion of Vincent Van Gogh, or in helping a reluctant student discover the value of education. All this can be yours by indulging in lifelong learning.